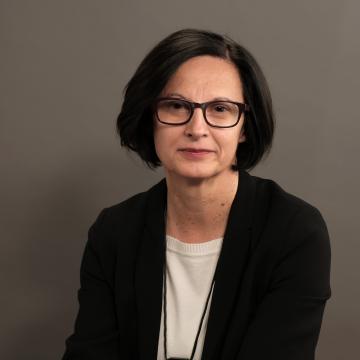 Department of Sociology
Prof. Milica Antić Gaber
Milica Antić Gaber is a Senior Researcher and Full Professor at the Department of Sociology, Faculty of Arts, University of Ljubljana, where she has been teaching sociology of gender at graduate and postgraduate levels and coordinating the PhD programme in Gender Studies for more than 20 years. For many years she worked as a researcher at the Peace Institute in Ljubljana and taught at the Institutum Studiorum Humanitatis in Ljubljana. She has been a visiting scholar and lecturer at the Central European University in Budapest, the Centre for Women's Studies in Belgrade, the Inter-University Centre in Dubrovnik, Birkbeck University in London, the Centre for Women's Studies in Novi Sad, and the University Pompeu Fabra in Barcelona.
Her research interests are: Women's Studies and Feminist Theory, Feminist Political Theory, Women in Politics, Gender and Globalisation, Gender and Violence, Gender and Migration.
Since 2007 she has participated in or coordinated national and international projects on gender equality, including the European Commission project (Daphne II) Ways of Implementing European Directives on Violence against Women, Children and Youth: Good practises and recommendations; Balancing private and professional life as an obstacle to the greater presence of women in politics; Gender Structure of Slovene Society and the Position of Genders in Politics, international project The Electoral Gender Quota Systems and their Implementations in Europe and she was national coordinator of the Slovenian research group of the European Commission-funded project Gearing Roles, which addressed issues of GEP implementation in academia, and of the national research project on sexual harassment in academia.
Her public activities include several areas. She was/is:
- Member of the editorial board of the journal Delta (and its co-founder, 1995-);
- Member of the editorial board of Sociological Discussion (2006-2009 and 2011-).
- Co-founder and co-editor of the journal Ars et Humanitas (since 2007-);
- Member of the editorial board of the journal Teorija in praksia (2010 – 2022);
- Vice President of the Expert Group "Mainstreaming Equality Between Women and Men" at the Council of Europe (1995-1998);
- Member of the Expert Forum of the European Institute for Gender Equality (EIGE);
- Co-director of the International Seminar "Women and Politics" at IUC Dubrovnik (International Seminar Women in Politics);
- President of the Slovenian Sociological Society from 2010-2016;
- Member of the Expert Council for Gender Equality at the Ministry of Labour, Family, Social Affairs and Equal Opportunities (MDDSZ);
- Co-director of the seminar "Social Structures and Social Institutions" at IUC Dubrovnik (2016 - );
- Member of the Executive Committee of the European Sociological Association (ESA) (2017 – 2021).
Selected publications:
ANTIĆ GABER, Milica, SELIŠNIK, Irena. Legislative gender quotas in Slovenia: implemented but not internalised. In: LANG, Sabine (ed.), MEIER, Petra (ed.), SAUER, Birgit (ed.). Party politics and the implementation of gender quotas : resisting institutions. Cham: Palgrave Macmillan, cop. 2023. Str. 321-339.
KUHAR, Roman, ANTIĆ GABER, Milica. Women as a linguistic footnote : gender equality fatigue in the debate on gender-sensitive language in Slovenia. Gender and language. [Print ed.]. 2022, vol. 16, no. 3, str. 241-264.
ANTIĆ GABER, Milica, Samoumevnosti in nelagodja : sistemsko urejanje enakosti spolov v akademskem polju. Faculty of Arts, University of Ljubljana, 2022.
ANTIĆ GABER, Milica. Mapping women?s and gender studies in the academic field in Slovenia. CEPS journal: Centre for Educational Policy Studies Journal. 2017
Compulsory Courses
Elective Courses